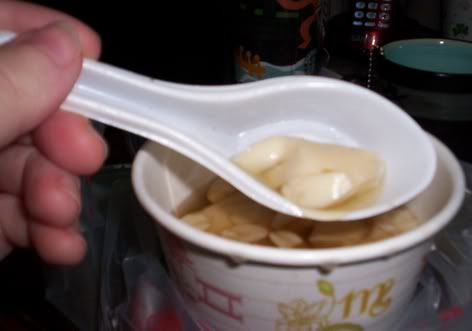 Right now I am eating a very interesting dessert consisting of warm soft tofu in a hot syrup. It's called dou hua and is something I suppose grows on you. The first 2 times I had it, I didn't particularly like it. So far my favorite is a cold chocolate one.

I spent the weekend in Taipei. I'm getting a little more comfortable with being there, and not feeling so overwhelmed by its size and busyness. It was really great to see a number of friends, even though I see them so infrequently. I got to see Marcus before he returned to California, we gave our year end reports on Friday. I actually wasn't nervous. Although Doris rattled us a little when Marcus was giving his presentation and said "umm" gave a big speech about not using "um" (though he hadn't been using it excessively to that point) and then would kind of go "oh!" everytime he or I said it... of course this throws you off your train of thought, causing you to say "umm" more often while you try to find your place again!

I got to see my friend Esther from Yuli on Saturday (she moved from Yuli to Taipei in August). We went to the Taipei art museum. I appreciate cheap and interesting things to do. There's a big Vivienne Westwood display there now, which was the main attraction, but I'm not much of a fashion buff.
I also learned how to play Mah Jong! Unfortunately I had to go, so I only had time for a lesson and about 3 rounds. I hope I can play again sometime.

On Saturday night I went to see
Cinderella Man
which I thought was an excellent movie. It was really intense, though probably made more so by the fact that I hadn't been to a theatre since February...

Oh yeah, there was a typhoon in there somewhere too... I'm happy to say that none of the typhoons I've experiences thus far have affected me badly... not even a power outage (in any of them). I was a little worried I'd be stranded in Taipei for an extra day, but the trains started running again right around the time I was boarding. When I arrived at the train station there were only two that weren't cancelled or delayed. Amazingly, mine was one of those two!

So now I'm back in Yilan for a few days and can you believe it - I've got a cold!
sigh... I know everyone, especially Hope will be shocked... from one a year to one a month, this is not good... actually, i seem to remember that i got the last one right after I returned from Taipei too. in that case things aren't looking good, since I'm going again next weekend. Speaking of next weekend, I'll be spending two fun-filled days in the exciting city of Hong Kong! On my own this time... I wonder how many times I'll get lost...